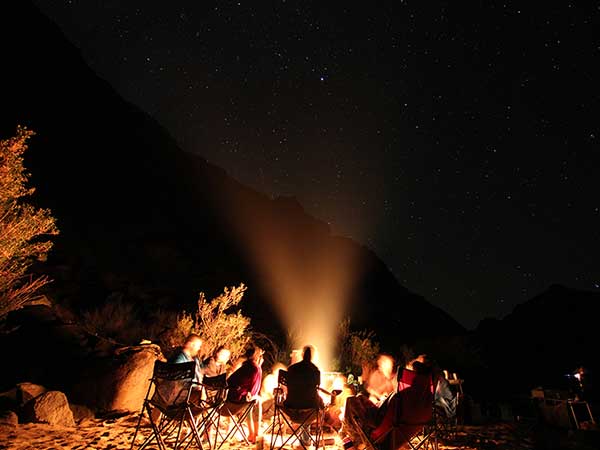 Kern River Camping
If you are planning a weekend Kern rafting trip and you're looking for a campground, then you have a lot of options. Almost too many options, as there are more than a dozen campgrounds in the Kern area. Not all are created equal though. This post will give you the best campgrounds for staging your rafting weekend.
Upper Kern River Camping
Rivers Edge Campground. Formerly known as MRA, they are located right above Powerhouse Rapid and have their own put-in. The campground is family friendly, offers hot showers, flush toilets and there is cell phone service available here. View the Rivers Edge Campground page.
Limestone Campground. With close access to Johnsondale Bridge, you can lap the Limestone section with ease. Doesn't hurt that this campground is gorgeous. The negatives are you're far from Kernville so supply runs need to be more thought out, and there is no cell phone service. (Not necessarily a negative, but it does make group planning a bit more challenging.) View the Limestone Campground page.
Frandy Park. They have a Lickety Split takeout, which makes logistics a breeze.
Lower Kern River Camping
Sandy Flat Campground. Excellent river access here makes this the best campground on the Lower Kern for rafting trips. Run the Lower Kern Jungle Run and end at your camp, or start your Miracle trip from here. With the Hobo Fishing Trail here, you can walk the path to Miracle Hot Springs, located about a mile downstream. (Or float down if you're putting in here.) View the Sandy Flat Campground page.
Hobo Campground. Just downstream from Sandy Flat, this campground offers many similar qualities. View the Hobo Campground page.
Camping on popular weekends
Camping is by far the most popular activity along the Kern River. This means that despite so many campgrounds, many get booked well in advance. If you're looking for any Kern River camping, then using the campground availability tool on this page is helpful.
Avoid dispersed campgrounds on the weekends. Crowded is an understatement.
If you plan on rafting both the Upper and Lower Kern, then selecting a Lake Isabella campground such as Tillie Creek is a good idea. This puts you at nearly equal driving distance for both sections.