Tuolumne River Rafting Guidebook
The Tuolumne River, known to many in the rafting world as "The T" is a Wild & Scenic River that winds and drops it way through a steep valley just downstream of world-famous Yosemite National Park. It is a wonderful adrenaline-packed adventure to add to any trip to Yosemite. The trip can be run as a one day bullet run with a long shuttle, or more pleasantly as an overnight trip. This stretch of river, flowing east to west from the Hetch Hetchy Reservoir in Yosemite into the Don Pedro Reservoir wonderfully mixes high octane whitewater with stunning mountainous scenery.
About this guide
This guide outlines the Tuolumne from Meral's Pool to Ward's Ferry covering rapids, camps, and creeks.
All data points were collected using GPS. These locations were checked against Google Earth for accuracy. Distances are the averages of repeated trips that were GPSed.
Safety
The Tuolumne is an intermediate to advanced river run. The run starts off with a bang, with numerous Class IVs back to back out of the gate, so you'll want to be an experienced boater.
Permits
During high season, permits are required and we strongly recommend getting one in advance.
A $15.00 fee is charged for the first 10 people, and an additional $2.00 will be charged for each extra person on the trip up to 26 people. For more information about rafting permits, visit the permits page on the Groveland Ranger District site. Permits are not required if you are rafting from October 1 through April 30.
Permits can also be reserved online here. It is still highly advisable to reserve these well in advance, as this is a well-known and sought-after section of whitewater.
Shuttle Info
The Tuolumne River has a particularly long & complex shuttle, driving down a winding rut-filled dirt road. We recommend a high-clearance 4×4 vehicle to avoid vehicle damage. Leaving a vehicle at Ward's Ferry Bridge overnight is not recommended, as there have been numerous reported vehicle break-ins. For overnight trips, our recommendation is to park your car at Casa Loma, and pay to have your vehicle shuttled, which will cost you ~$100 and save you several hours of driving.
The Tuolumne River is raftable from 800 To >8,000 CFS, with flows greater than 4,000 CFS considered to be high water. Like most Sierra rivers, the Tuolumne River is dam-controlled, however, the water is shutoff every day at 11AM from the Holm Powerhouse, so you will want to get an early start to your day. to avoid getting stuck high and dry. It is common for water not to be released on Sundays, so plan accordingly around this.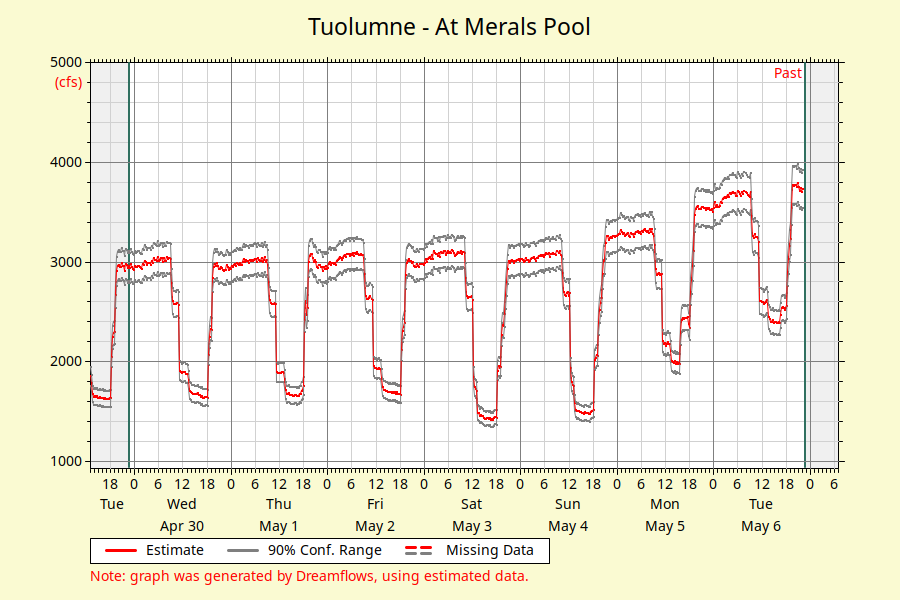 Gauge data provided by Dream Flows
We do not have a preferred partner (yet) for the Tuolumne. If you are a commercial outfitter with an excellent reputation we would love to hear from you.
Tuolumne River Rafting Comprehensive Guide
WARNING: Conditions change frequently and may make this guide useless. This guide is NOT a replacement for sound judgment. Go with someone with recent Tuolumne experience.
Class II Rapid
Class II rapid or river feature.
Class III Rapid
Class III rapid or river feature.
Class IV Rapid
Class IV rapid or river feature.
Class V Rapid
Class V Rapid. Used only at Clavey Falls.
Put-In / Take-Out
Used at Meral's Pool & Ward's Ferry
Point of Interest
These include creeks, side hikes and historical markers.
Fun Zone
Well known surf waves, jump rock locations, and safe swim areas
Campgrounds
Riverside camping locations.
Meral's Pool to Ward's Ferry
There's only one run for the Tuolumne and that's from Meral's Pool to Ward's Ferry. It packs in 18 miles of scenic whitewater, done either as a one or two day trip.
Length
Meral's Pool to Ward's Ferry is 18 miles.
Difficulty
Moderate to Advanced.
Feet per Mile
Meral's Pool to Ward's Ferry is ~35 FPM
Mile 0.0 – Meral's Pool: River Left. Put-in is typically busy as everyone is trying to time the water. Be courteous and friendly as it can get crowded here. Prepare yourself to quickly drop into Class IV action, as Rock Garden Rapid awaits you just downstream.
Mile 0.1 – Rock Garden Rapid: Class IV. As the name suggests, Rock Garden Rapid is full of rocks, some of which are notorious for wrapping your boats on, especially during lower summer flows. Start center, left, or right, and work your way towards the left channel, avoiding numerous boulders on your way down.
Mile 0.39 – Nemesis Rapid: Class IV. Look for the large house rock to know you've arrived at Nemesis. Another rock-filled rapid, most likely to give you trouble at lower flows. The "Nemesis" is a big boulder garden located around halfway down the rapid, with the easiest option being to pass these rocks on the left.
Mile 0.89 – Sunderland's Chute Rapid: Class IV. The entrance is class II before you get into the big stuff. The river pushes current into a large not-so-forgiving hole on river right. Work left to avoid this. The current then pushes you toward another large left lateral/hole in the center of the river. If you want to scout this rapid, do so on river right.
Mile 1.09 – Hackamack Hole Rapid: Class IV. Hackamack Hole Rapid begins with either hole or rock dodging depending on the flow. At lower flows, a run down the center line drops you into two large boulders that can be precisely navigated through. At higher flows, Hackamack has one of the bigger holes on the Tuolumne River, and it can be difficult to avoid.
Mile 1.56 – Ram's Head Rapid: Class IV. You can scout this rapid from either side of the river. Ram's Head is a long S-turn rapid, beginning with a left bend, navigating through holes & waves as you careen down this fun rapid. As the river begins to curve right, keep your eye out for a very large hole in the center of the river that is present at almost all runnable flows, but becomes a behemoth at higher flows. At medium flows and lower, a large rock resembling a Ram's Head is visible toward the beginning/middle of this rapid.
Mile 2.01 – India and Lower India Rapids: Class IV. Named after India Fleming, who was the first woman to the run the Tuolumne. Both rapids can be scouted from river left. Pay attention here at high water as there is a large river wide hole.
Mile 3.29 – Tin Can Cabin Camp: River Left. This is a large campsite. Landing occurs after a minor Class II rapid. There are numerous old mines littered throughout the campsite, it's possible to find many mining artifacts here, but please leave them be. A trail leads up to Lumsden Road, which is often used by fishermen.
Mile 4.34 – Stern / The Squeeze Rapid: Class IV. Stern / The Squeeze is difficult due to the narrow chute on the left you have to be able to squeeze your boat through at most flows. A lateral wave awaits you just before entering the left channel – make sure you have the correct angle to avoid entering sideways. It is possible to go right here, but you have a high chance of getting perched, especially at lower flows.
Mile 4.82 – Evangelist Rapid: Class IV. Evangelist gets its name from the numerous large holes located center/right-of-center of this rapid, making this a Hole-y rapid….get it? All dad jokes aside, you'll want to avoid these holes, especially at higher flows. There are numerous entrances, but working your way to the left will take you away from the majority of these holes. Watch out for a large boulder center channel towards the bottom of this rapid.
Mile 5.13 – Bent Thole Pin / Frame Crusher Rapid: Class III. Don't get caught sleeping here, this rapid is littered with guard rocks, with lots of current pushing toward a large undercut rock at the bottom of this rapid on river left.
Mile 5.45 – Clavey River Confluence: River Right. The Clavey River enters the Tuolumne River on the right side.

Mile 5.45 – Clavey Camp: River Left & Right. There are campsites on both sides of the River upstream of Clavey Falls rapid.
Mile 5.51 – Clavey Falls: Class V Rapid. It's highly recommended that you scout this rapid, on the left or right. This rapid is generally entered on the right, passing through a narrow, steep chute with a hole awaiting you at the bottom. Below the entrance is an undercut rock in the center of the channel, which you'll want to pass on the left. Learn more about Clavey Falls.
Mile 5.78 – Son of Clavey Rapid: Class III. After Clavey Falls, the gradient of the river takes a bit of a breather, but there is a Class III rapid to keep you on your toes. This rapid has a series of small drops and is often run on the right. Below this rapid, there are a number of obvious campsites often marked by the confluence of 2 small creeks coming in from both sides of the river. Note: the camps are located on the opposite side of the creek confluence.
Mile 7.69 – Powerhouse Campsite: River Right. This is a large sandy USFS-designated campsite located on river right, marked by the very conspicuous building on river right. This campsite is oft-used by commercial trips. The site was destroyed by the 1937 flood.
Mile 8.15 – Grapevine Creek Confluence: River Right. Grapevine Creek enters on River Right, notable by the large pile of debris from previous high flows.
Mile 8.23 – Grapevine Campsite: River Left. Large, popular campsite located just downstream of Grapevine Creek confluence.
Mile 8.52 – Indian Creek Confluence: River Left. Indian Creek enters the Tuolumne River from river left. An old trail climbs out of the river along the Indian Creek canyon.

Mile 8.52 – Indian Creek Campsite: River Right. Large Campsite on river right just downstream of point where Indian Creek enters. This campsite is also generally reserved for commercial trips.
Mile 8.95 – Baseline Campsite: River Right. This is a small, USFS designated campsite that is not used by commercial trips.
Mile 9.22 – Wheelbarrow Campsite: River Left. Another USFS designated campsite not used by commercial trips, however, located on river left.
Mile 9.74 – Gray's Grindstone: Class IV. This is a long rapid, that has multiple parts and can be scouted by a trail on river right. At the beginning of this rapid, dodge boulders at medium to low flows, which become holes at higher flows. After navigating this boulder garden, current pushes you into a hole, which at higher flows above ~3,000 CFS becomes a beast of hole that is advised to avoid to river left. Once through this chute, this rapid again becomes a boulder garden at lower flows (watch out for holes aplenty at higher flows) The final part of this run is often run on river left after navigating the large hole.
Mile 11.69 – Thread the Needle: Class IV. This rapid is considered Class IV if you choose to run the very narrow and treacherous slot between two house-sized boulders in the middle of the river, with swift current pushing in between them. It is advised to take the much easier Class II slot to the left of these large boulders.
Mile 11.74 – Driftwood Paradise Campsite: River Left. Two campsites on River Left just after passing Thread The Needle Rapid. As the name suggests, this is a wonderful resting place for driftwood, however, fires may not be legal during the heart of the fire season.
Mile 11.86 – Driftwood Rapid: Class III. Watch out for this boulder garden, which is usually entered on the left, followed by a series of rock-dodging maneuvers.
Mile 12.83 – Cabin Rapid: Class IV. Noted by the confluence with Big Humbuck creek on river left. The river curves left, pushing current toward the bedrock wall on river right. Enter right of a large rock field, then work your way left to avoid a large boulder in the center of the river that can become a large hole at higher flows.
Mile 12.87 – Cabin Campsite & Big Humbuck Creek Confluence: River Left. Large Campsite located on River left at the confluence of Big Humbuck Creek & Tuolumne River.
Mile 13.08 – Big Creek Confluence: River Left. Big Creek enters the Tuolumne River on River left. There is a fun side hike leading to a waterfall through a series of small pools and drops. Also, keep your eyes peeled for evidence of the Native Americans who used to inhabit this area.
Mile 13.08 – Big Creek Campsite: River Left. Two campsites located on river left. One is upstream of the Big Creek confluence, and the other is just downstream of the Big Creek confluence. Sleeping here puts you immediately upstream of Hell's Kitchen rapid.
Mile 13.11 – Hell's Kitchen Rapid: Class IV. This is the last major rapid on the Tuolumne River. It begins as a Class III straightaway run which then gives way to a boulder garden. If needed, pull over and scout on river left once you see the large boulders arise out of the river, as this can be tricky spot with quick moving current. Stay in the center of the current, but take this one slow to avoid the numerous flip/wrap rocks on both river right and left.
Mile 14.46 – Mohican & Mary Ellen Quartz Mines: Denoted by the presence of many very large white quartz veins, lies the old mining claims of the Mohican (river left) and the Mary Ellen (river right) groups. There is an old suspension bridge that once crossed the Tuolumne River at this point, however, it currently hangs in tatters, but remains a good marker to learn a little about the history of Sierra gold mining.
Mile 15.34 – North Fork of the Tuolumne River Confluence: River Right. The North Fork of the Tuolumne River joins the Main Stem from river right. This is a wonderful place to hike upstream and explore before you arrive to take-out, which is sadly approaching soon. There are two campsites at this location, one located upstream of the confluence, and the other located downstream.
Mile 16.70 – Turnback Creek Confluence: River Right. Turnback Creek enters the Tuolumne River on river right. Keep your eyes peeled for abandoned mining equipment.
Mile 16.49 – High Water Mark for Don Pedro Reservoir: This is the late-spring/early-summer high water mark for Don Pedro Reservoir, which can change from year to year.
Mile 17.66 – Pinball Rapid: This is no longer a rapid, but at one point, this was a Class IV boulder garden. It has filled in with sediments and only comes out if the reservoir is incredibly low.
Mile 18.23 – Ward's Ferry Take-Out: River Right. After paddling on the Don Pedro Reservoir for a few miles, the Take-Out emerges, denoted by an impossible-to-miss concrete bridge. The exit is a difficult to navigate trail out on river right. Commercial companies will use a boom truck to winch their rafts out of the canyon instead of hiking it up the hill.
Posts related to the Tuolumne River
Tuolumne River is Online Photo courtesy of Jared [...]