The Kern River has more hot springs than any other river in California. This post focuses on the two publicly open ones located on the Lower Kern.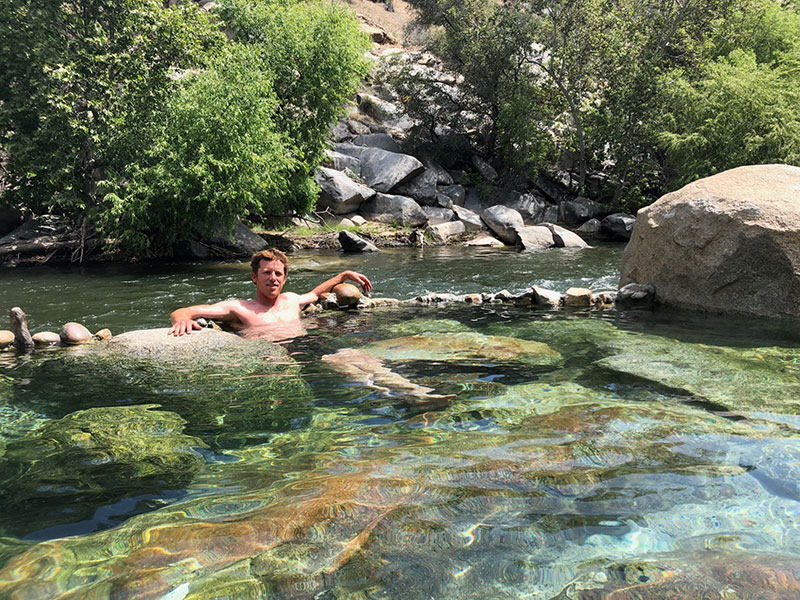 Miracle Hot Springs
2023 update for Miracle Hot Springs: Miracle Hot Springs have been destroyed and are no longer accessible. The text below will be kept assuming the springs get rebuilt.
River mile: 8.23
Perhaps the most famous Kern River hot springs, Miracle lives up to its name on most occasions. Previously, there was a hotel and post office located here. While these are long gone, the pools remain.
Pros:
Big tubs that can fit many people.
Located right alongside the river makes it an idyllic spot.
No sulfur smell.
Cons:
With drive-up access, trash and overcrowding have become an issue here.
If you're on a river trip and plan on stopping here, make an assessment on if it's worth it as you float by. If there are crowds of people, it's probably not worth the heartbreak of seeing the trash and listening to blaring music. If there's no one here or just a handful, this makes an amazing mid-trip stop.
Remington Hot Springs
River mile: 9.46
Just down river from Miracle Hot Springs is Remington, also on river left. These tubs are also large and excellent.
Pros:
Tends to be less crowded than Miracle as you don't have drive-up access.
Also idyllic, as it's right next to the river.
No sulfur smell.
Cons:
While it doesn't see the same amount of use as Miracle there are moments where overcrowding and trash are an issue here.
In 2020, Sequoia National Forest banned camping at the top of the trailhead that accesses Remington and that has helped the hot springs immensely. Similar to Miracle, it's best to float by and assess if it's worth stopping at. You're more likely to find these tubs with fewer people, so unless it's a weekend it won't be as crowded.
Kern River Hot Springs – Runner Ups
Delonegha: Located at river mile 14.43, these hot springs are rich in history and feature deep, cemented pools. The accessibility of these pools is in question, as no one is sure if it is on private or public land.
Democrat: Just downstream from Democrat takeout are wonderful hot springs, which have a private resort built around them. The property continues to be well maintained, and supposedly events are still held there but information is sparse.