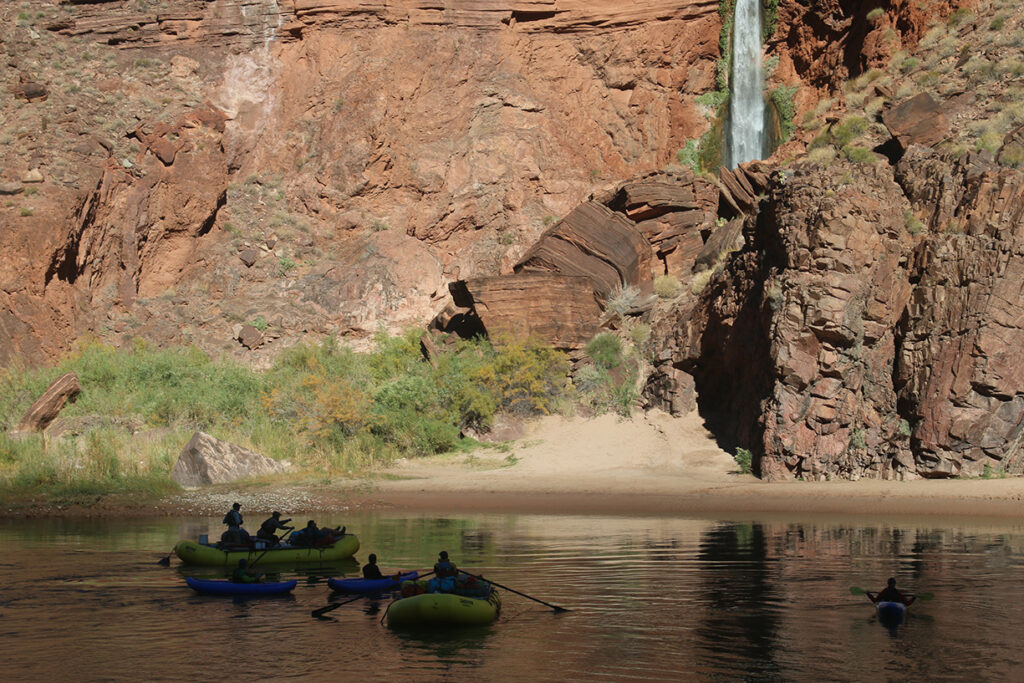 So you or a friend landed a non-commercial GC permit…
First comes the excitement, the "Oh man, can I swing this? I'll make time. This is OK." Once you accept that you are going into the Grand Canyon for three weeks, and that your life is going to warp/conform to fit the trip, the cost considerations and practical realities of the adventure start to settle in. So how much does a private trip down the Grand Canyon really cost?
The largest considerations for trip cost are whether or not you are using a professional outfitter and the duration of the trip. Most people do a Lee's Ferry to Diamond trip in between 16-21 days. A twenty-one-day trip will have higher expenses for food/beverages as well as gear rentals. For most groups that don't have a ton of canyon-ready boating gear, professional outfitters are used for both boat/gear rentals and food.
Let's do an example trip cost for a 16-day trip broken down by expense category:
NPS:
– $20 entrance fee per participant (16 years and older)
– $90 river permit cost per participant • for participants added after a river permit has been issued an additional $100 late charge per participant
Average per person NPS cost: $110 per person
Professional Outfitters:
Professional River Outfitters, a great Outfitter based out of Flagstaff, posted a sample trip itinerary with costs on their website. The sample itinerary included rentals for gear and food. This is assuming that you are bringing very little to the trip outside of PFDs, personal drybags/drysuits, and sleeping equipment. The cost breakdown can be found here. Note that most high-quality outfitters on the GC have similar price-points, which is why I am using PRO as a general example. If you are lucky enough to run multiple canyon trips, some outfitters will offer discounts to return customers.
The sample itinerary for a 16-person, 16-day trip came out total cost of $17,797.10 which translates to $69.52 PPD. The total per person outfitter cost, in this case, is $1,112.
A recent 23-day canyon trip that I went on with 16 people had a per/day outfitter cost of $59.13 with a total per person outfitter cost of $1,360.
Average per person outfitter cost: $1,100 – $1,400
Shuttles:
Almost every group going on a canyon trip hires a professional shuttle service to take their cars from Lee's Ferry to Diamond or Pearce. On average, the cost per car for the shuttle service is around $400. A list of approved shuttle services can be found here. For our example, let's say your group uses four cars at $400/each for a total cost of $1600.
Average per person shuttle cost: $100
Misc Expenses
These can add up quickly. One of the biggest individual expenses for a lot of groups is… alcohol. This expense varies greatly based on the preferences of the group.
Another large misc. expense is gas to get to and from the Canyon. If you are coming from out of state, this can easily reach over $100 per person.
If you do not have all of the personal gear necessary for a 16-23 day camping trip, gear purchases can add a lot to the cost of a canyon trip.
As an estimate, let's per person misc. expenses: $250.
Total Cost:
The total cost will vary greatly depending on the amount of gear your group has and the duration of your trip. That said, for a standard outfitted trip, the following per-person approximate costs can be expected.
NPS: $110
Outfitter:$1,100 – $1,400
Shuttle: $100
Misc: $250
Total: $1,560 – $1860
Is that expense worth it? For most people that have done a canyon trip, the answer is a resounding yes. If you are lucky enough to score a permit or be invited on a trip, we hope this helps in your planning. For more info about the GC, check out our Grand Canyon guidebook and map.