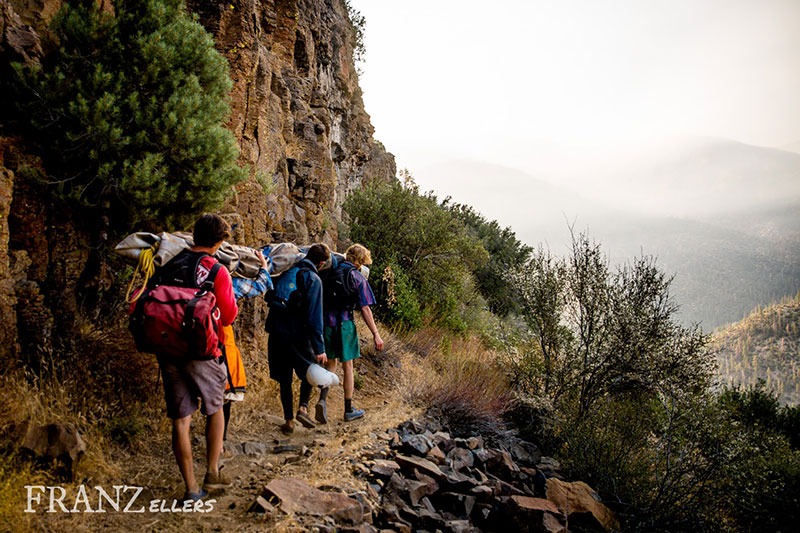 Due to the Castle Fire in 2020, the Forks of the Kern trail had been severely damaged and was closed until 12/31/21 for natural recovery and safety. This 2.5 mile trail is the primary access point to the river, crisscrossing into the Forks canyon and ending at what is known as the Forks Island. Its closure effectively canceled the 2021 Forks rafting and kayaking season. Additionally, the trail historically saw plenty of use from fly fishers, backpackers and day hikers.
Since the new year, no word regarding its status had been heard, however, at a Forest Service meeting on Friday, March 4, 2022, the Forest Service confirmed it was ready to be reopened and will be accessible once the road is cleared. (The road closing seasonally for the winter is normal.) This trail reopening is due to the Forest Service and volunteers, such as the San Diego Fly Fishers, and Student Conservation Association. They worked injunction with the USFS to clear the trail of dangerous deadfall and debris.
At the meeting, it was emphasized by District Recreation Staff Officer, Stephen Elgart, that the area still needs time for natural recovery so it is critical that users remain on the trail.
An enormous thank you to the Sequoia National Forest, San Diego Fly Fishers and Student Conservation Association on working together to get the trail open. (And if we missed any group or individual, please let us know.)
The Forks of the Kern is a ~15 mile Class V section of whitewater located in Sequoia National Forest. Permits are required to raft or kayak it. Permits are on a lottery system, however, walk-ins are available on dates that were not drawn. Permit information can be found here.