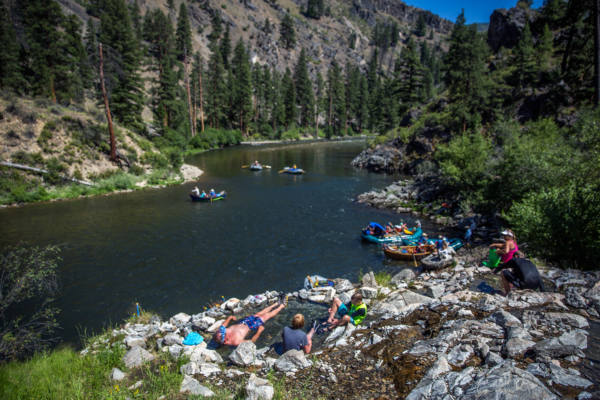 The Middle Fork of the Salmon is well known for its many hot springs. This list breaks out the more common ones from top to bottom.
Mile 7.26 – Trail Flat Hot Springs
Located on the gravel bar, this hot spring is buried at high water and starts to appear as flows come down. It's not too common of a stop unless you're camping here as there are better pools down river, however, if the flows are right and the timing is good, then this is worth a visit.
Nearby camps: Trail Flat.
Mile 13.41 – Sheepeater Hot Springs
Located on the shelf behind the camp, Sheepeater Hot Springs is typically accessed by groups staying at Sheepeater Camp, Scout Camp, and Joe Bump Camp. There are a few different pools here and accessing them requires a careful walk over slippery rocks so take your time to avoid a stumble. Due to the pools being on a bar far from the high water mark, they're not impacted by high flows.
Nearby camps: Sheapeater, Scout, Joe Bump, and Fire Island.
Mile 33.67 – Sunflower Hot Springs
Famous for its holiday-card-worthy shower feature, Sunflower has numerous small pools that eventually merge together and cascades into the river, allowing you to take a high pressure "shower" (sans soap!) underneath the falls.
Nearby camps: Sunflower Flat, Lost Oak.
More info: For photos and more information click here.
Mile 50.06 – Loon Creek Hot Springs
While technically not on the Middle Fork but Loon Creek, the hot springs here are incredible. Located approximately one mile up Loon Creek from the Middle Fork confluence, these hot springs feature one large pool adjacent to the creek.
Nearby camps: Big Loon, Cow, Shelf, and White Creek.
More info: For photos and more information click here.
Mile 52.54 – Hospital Bar Hot Springs
Located on the river, these hot springs become accessible as water flows come down. Some years a small, makeshift pool will form here and in other years, they cascade straight into the river.
Nearby camps: Cave Camp, Hospital Bar.
More info: For photos and more information click here.
Runner Ups
Whitie Cox. Located at mile 46.71, the pools here are murky, typically full of biting insects, and are infrequently, if ever, soaked in.
Middle Fork Lodge. Located at mile 34.5, these hot springs are on private property.
Dagger Creek. Upstream of Boundary Creek is Dagger Falls. Above this on river left, Dagger Creek meets the Middle Fork. There is a small, murky hot springs here with plenty of insects.