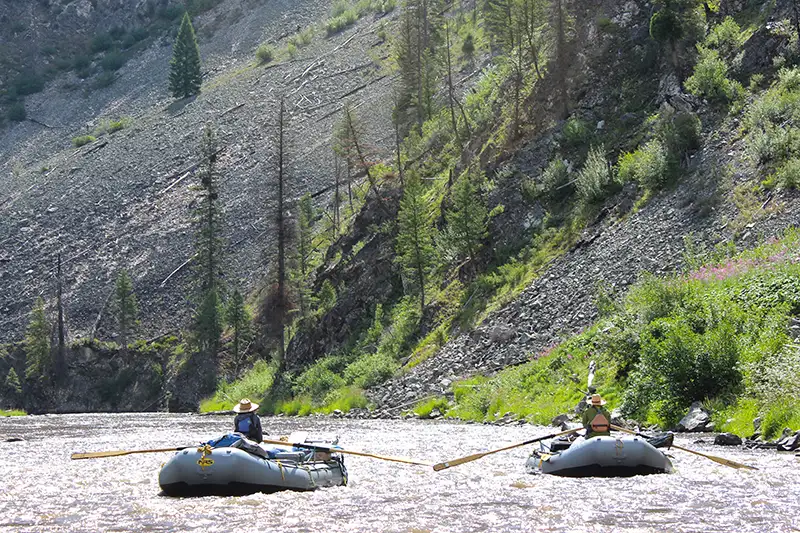 Each year, the commercial launch schedule remains the same on the Middle Fork of the Salmon. If you were lucky enough to win a permit, you can look below and see which company you will be likely launching with. I say likely because not everyone decides to start at Boundary Creek. Depending on water levels and trip length, groups may decide to start from Indian Creek or another put-in.
Company list & abbreviation key
Sorted alphabetically.
ASV – Adventure Sun Valley
Aggipah
ARTA – American River Tours Association
BE – Boundary Expeditions
BSA – BSA Mountain West Council
Canyons
Far and Away
Helfrich
Hughes River Expeditions
IRJ – Idaho River Journeys
IWC – Idaho Wilderness Company
Mackay
MFL – Middle Fork Lodge
MF Rapid Transit – Middle Fork Rapid Transit
MFRE – Middle Fork River Expeditions
MF River Tours – Middle Fork River Tours
MFWO – Middle Fork Wilderness River Outfitters
MFA – Middle Fork Adventures
NWRC – Northwest
OARS
WRO – Wilderness River Outfitters
Rocky Mountain River Tours
ROW
Sobek
Solitude
Tight Lines
May
28: ARTA, Far & Away, OARS. 29. Helfrich, NWRC, WRO. 30: ASV, Helfrich, MF River Tours 31: BE, MFL, Tight Lines
June
Canyons, IRA, ROW
Aggipah, MF Rapid Transit, MFRE
IRJ, Mackay, MFA
Hughes, MFWO, Rocky
IWC, Sobek, Solitude
ARTA, Far & Away, OARS
Helfrich, NWRC, WRO
ASV, Helfrich, MF River Tours
BE, MFL, Tight Lines
Canyons, IRA, ROW
Aggipah, MF Rapid Transit, MFRE
IRJ, Mackay, MFA
Hughes, MFWO, Rocky
IWC, Sobek, Solitude
ARTA, Far & Away, OARS
Helfrich NWRC, WRO
Helfrich, AVS, MF River Tours
BE, MFL, Tight Lines
Canyons, IRA, ROW
Aggipah, MF Rapid Transit, MFRE
IRJ, Mackay, MFA
Hughes, MFWO, Rocky
IWC, Sobek, Solitude
ARTA, Far & Away, OARS
Helfrich, NWRC, WRO
BSA, ASV, MF River Tours,
BE, Canyons
IRA, MF Rapid Transit, ROW
MFA, MFRE
IRJ, Hughes, Mackay, MFWO
July
Sobek, Rocky, Solitude
Aggipah, ARTA, Far & Away, OARS
BSA, Helfrich, NWRC
ASV, MF River Tours
BE, Canyons, MFL, Tight Lines
IRA, MF Rapid Transit, ROW
MFA, MFRE
IRJ, Hughes, Mackay, MFWO
Sobek, Rocky, Solitude
ARTA, BSA, Far & Away, OARS
Aggipah, Helfrich, NWRC, WRO
Helfrich, ASV, MF River Tours
BE, Canyons, Tight Lines
IRA, MF Rapid Transit, ROW
MFA, MFRE
IRJ, Hughes, Mackay, MFWO
IWC, Sobek, BSA, Solitude, Rocky
ARTA, Far & Away, OARS
Helfrich, NWRC, WRO
ASV, Aggipah, Helfrich, MF River Tours
BE, Canyons, Tight Lines
IRA, MF Rapid Transit, ROW
MFA, MFRE,
IRJ, BSA, Hughes, Mackay, MFWO
IWC, Sobek, Rocky, Solitude
ARTA, Far & Away, OARS
Helfrich, NWRC, WRO
Helfrich, ASV, MF River Tours
BE, Aggipah, Canyons
IRA, MF Rapid Transit, ROW
BSA, MFA, MFRE
August
IRJ, Hughes, Mackay, MFWO
IWC, Sobek, Rocky, Solitude
ARTA, Far & Away, OARS
Helfrich, NWRC, WRO
Helfrich, ASV, MF River Tours
BE, Canyons, MFL, Tight Lines
Aggipah, IRA, MF Rapid Transit, ROW
MFA, MFRE
IRJ, Hughes, Mackay, MFWO
IWC, Sobek, Rocky, Solitude
ARTA, Far & Away, OARS
Helfrich, NWRC, WRO
Helfrich, ASV, MF River Tours
BE, Canyons, MFL, Tight Lines
IRA, MF Rapid Transit, ROW
Aggipah, MFA, MFRE
IRJ, Hughes, Mackay, MFWO
IWC, Sobek, Rocky, Solitude
ARTA, Far & Away, OARS
Helfrich, NWRC, WRO
Helfrich, ASV, MF River Tours
BE, Canyons
IRA, MF Rapid Transit, ROW
MFA, MFRE
IRJ, Hughes, Mackay, MFWO
IWC, Rocky
ARTA, Far & Away, OARS
Helfrich, NWRC, WRO
ASV, MF River Tours
BE, Canyons
IRA, MF Rapid Transit, ROW