Hyside Max 12 Raft Review
The Hyside Max 12 is a versatile, small boat. With three thwarts you can fit a crew of 6 yet it measures bow to stern at 12 feet 2 inches. In 2022, Kern River Outfitters purchased a fleet of Max 12 rafts from Hyside. After using them everyday for a season here's what we loved about them and here's what we wished they had.
What we really liked about the Hyside Max 12
The Max 12s are light coming in just under 100 pounds. This makes them easy to move on the water and respond quickly to well-trained paddle crews. The length is a good fit for the Kern River too, as there are many years that the river doesn't get above 2,000 CFS. Fully inflated the raft is stiff and if you're paddle guiding you can turn the raft on a dime. While it can seat six plus a guide, the ideal setup is a four-load. If you're running a four load and two of them happen to be large people, place them not in the front, this way they can opt to straddle the second thwart allowing them to fit more comfortably in the raft. Speaking of thwarts, the knuckle thwart attachments are easier to use than thwart cards found on other raft brands allowing you to pop thwarts in and out without much difficulty.
What we didn't like about the Hyside Max 12
There are no glaring issues with the Hyside Max 12, which shouldn't come as a surprise as Hyside has been manufacturing whitewater rafts for over 30 years. The items we didn't like are minor but should be mentioned. First, front foot cups aren't included (I believe the absence of foot cups is an industry-standard) so you will need to order their installation if you plan on using them. Second, the inside D-rings found in the stern and bow are too small to clip a throw bag which is a minor inconvenience but not a deal breaker. Finally, there are just two handles, located on the bow and stern, so unless you have a perimeter line set up, the raft can only be carried by two people at the front and back, which is awkward.
Should you buy a Max 12?
The Max 12 is an ideal choice for those seeking a paddle raft that seamlessly combines sportiness with functionality, specifically tailored for low to medium-volume river adventures. However, if you're in the market for an oar rig raft suitable for overnight trips, opting for a larger and wider Hyside model would be more suitable. Nevertheless, if your goal is to navigate a low to medium volume river with six loads, the Max 12 excels in performance without compromising on weight or quality, living up to the renowned standards associated with the Hyside brand.
Specs and materials
The below spec and materials graphics are from Hyside.com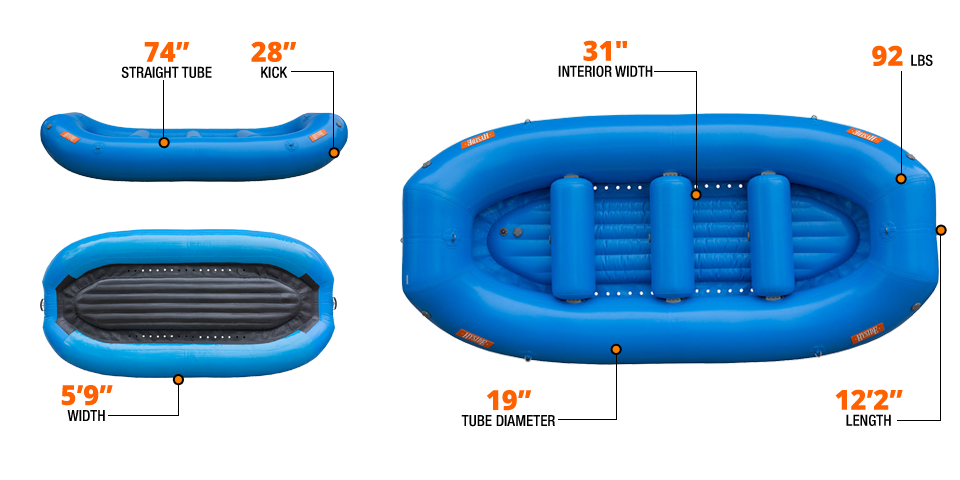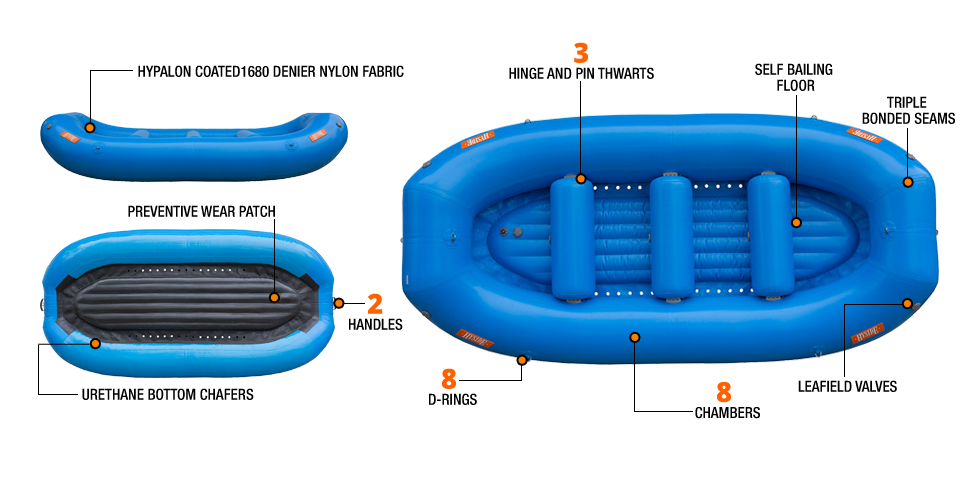 Current pricing and pricing history
2022 – today (2023): $4095
2020 – 2021: $3595
2017 – 2019: $3200
No data beyond this
Where to order
Online: Hyside.com
US Phone number: 800-868-5987
International: 801-208-8827
Further reading