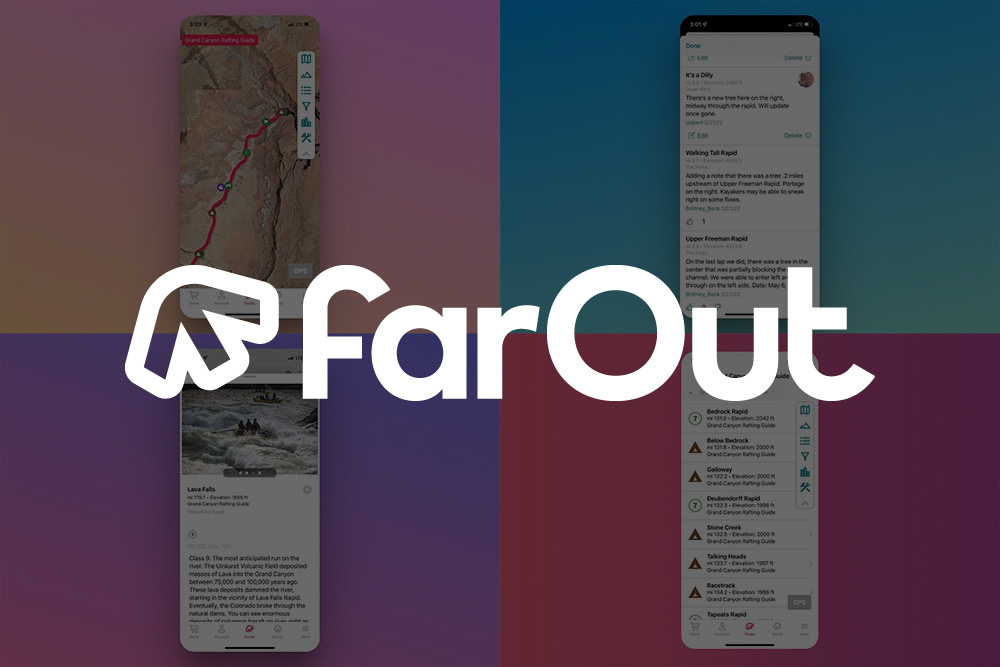 Not just another navigation app. FarOut was built for thru-hiking and rafting.
FarOut added whitewater rafting to their guidebooks earlier this year in February. Previously, they had focused on long distance thru-hiking trails such as the Pacific Crest Trail and the Appalachian. Their app, which allows the download and offline use of guidebooks, is used by the vast majority of all thru-hikers. Through our partnership, we've been onboarding our data into their platform, allowing those same thru-hiking features that make their app so popular to be accessible to the whitewater community. This post explores some of those features.
Waypoint commenting
Being able to view and add comments to waypoints is the most efficient way to get updated information on rapids, camps, and more. Previously, updates would arrive by either paying attention to online forums or asking friends who had been on the river recently. Commenting allows anyone to make notes on waypoints. If you are out of service, these comments are saved and then added to FarOut once you arrive back in signal. Others in the community that agree with a comment, can upvote it, allowing the best information to float to the top of the comment thread. Finding comments is easy as you can simply select "View Recent Comments" which shows all comments for the entire river, eliminating the need to scroll through each waypoint to see if anything has been posted.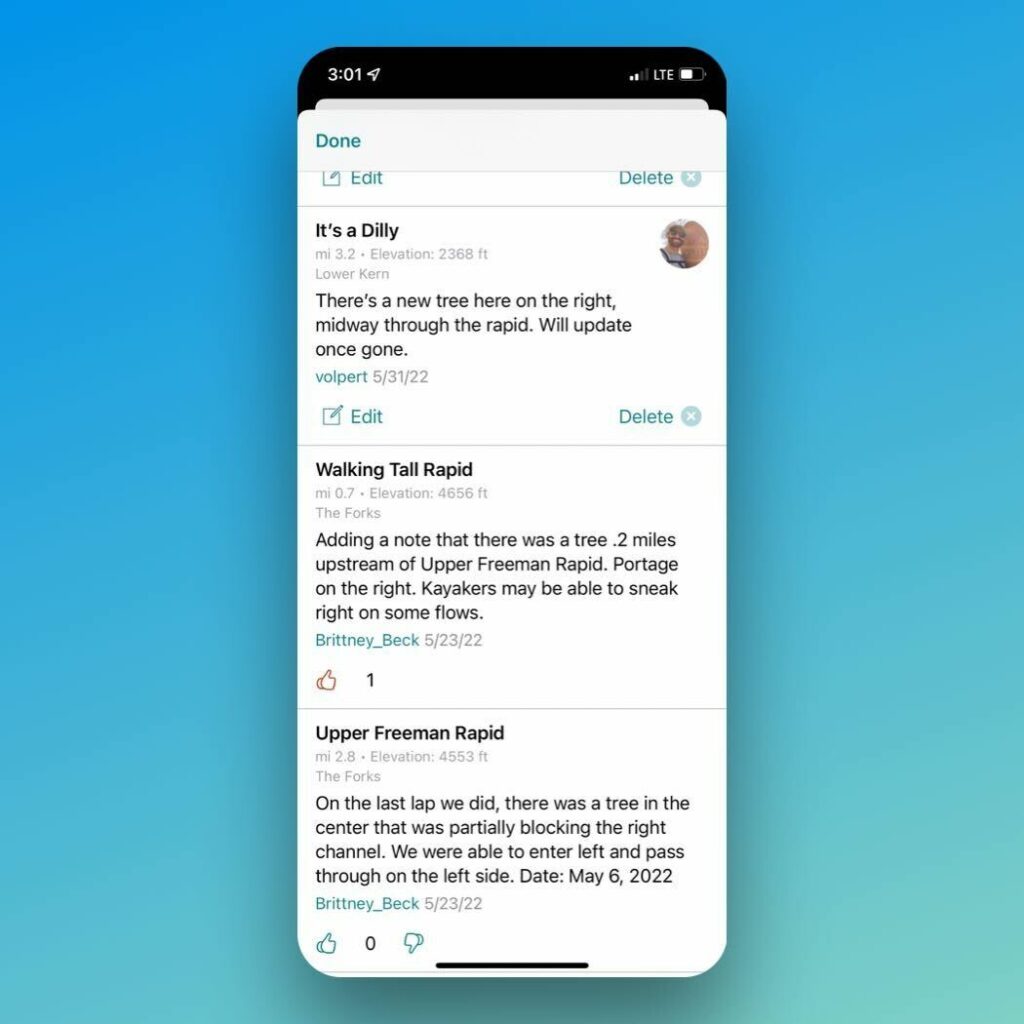 Comments from the Kern River guidebook.
Expanded waypoints
Waypoints in FarOut can contain vast amounts of data including multiple images, and unlimited description text. This allows waypoints to not only include must-have information, but anything else that's pertinent, such as historical information, low and high water lines, hiking opportunities from camp, to name a few. Additionally, waypoints will automatically show you how far you are from the next point of interest, eliminating the need for you to do the math on the distance to the next camp, for example.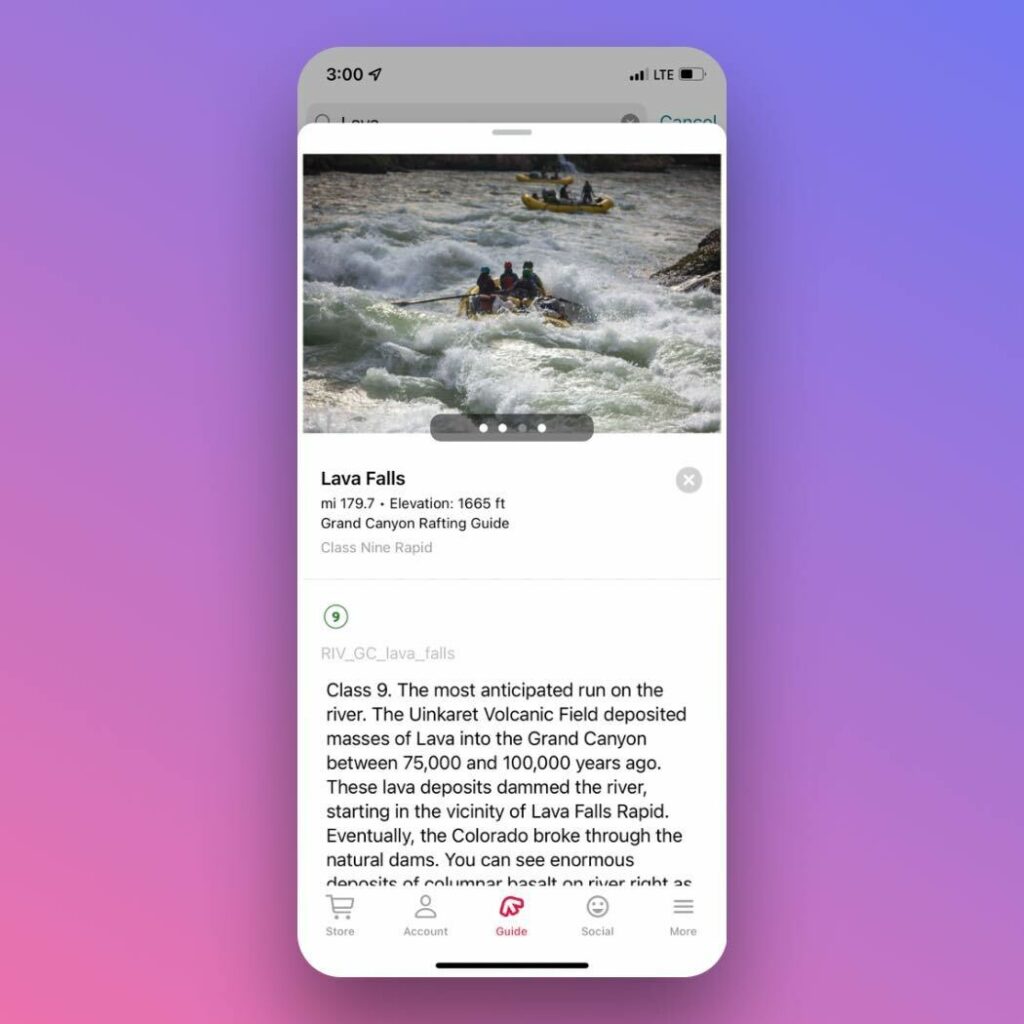 The infamous Lava Falls Rapid on the FarOut app.
Satellite, topo or guidebook view
You can easily toggle between different background maps including topo and satellite view. Additionally, you can switch to the guidebook view, which displays the waypoints in a list view, similar to a physical guidebook. These are all downloaded while you're in service so they work offline. Tapping the GPS button will orient your position on the map, showing you where you are on the river.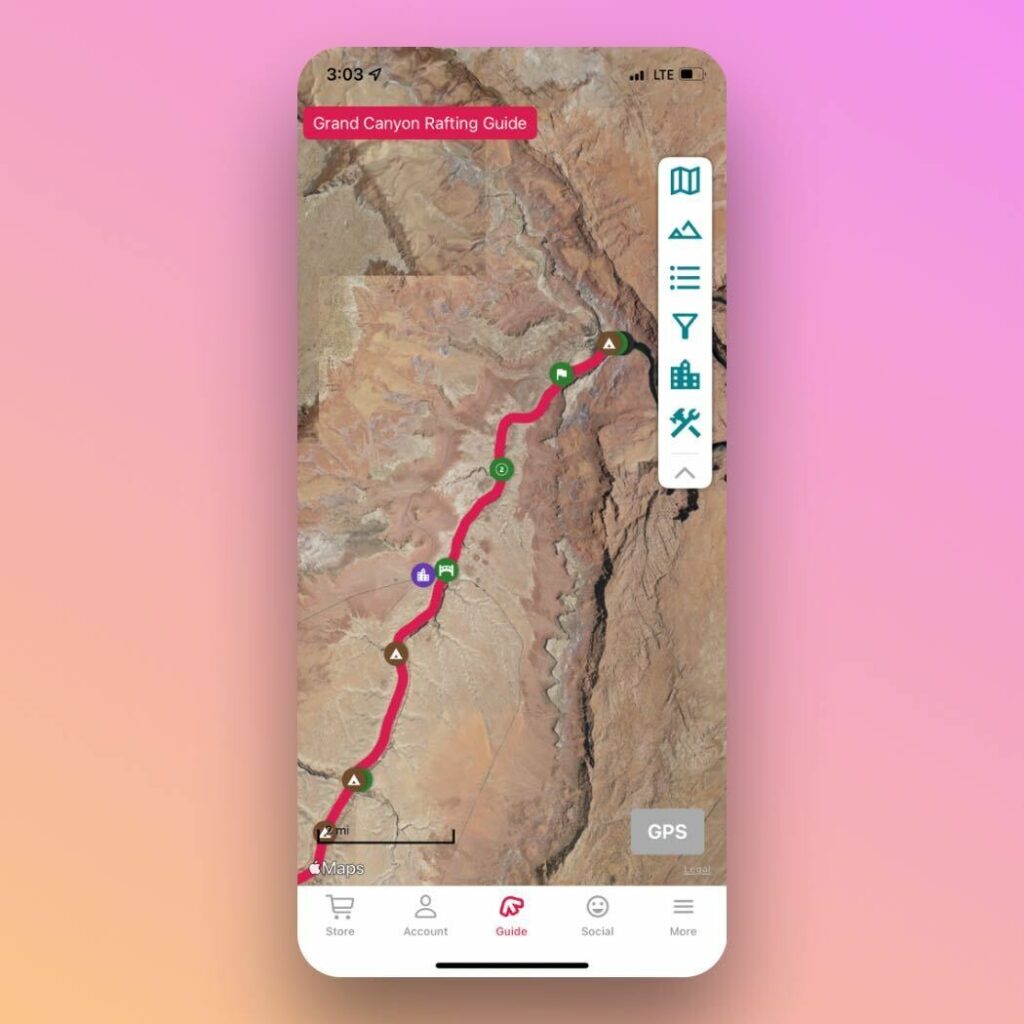 Satellite view on the Grand Canyon. From here, you're just two taps away from guidebook view.
There's so much more, and we're just getting started
Once you start looking under the hood you'll discover even more planning and route tools.
Create your own custom waypoints.
Use the web app to plan your trip in advance.
Filter waypoints to show only the ones you are interested in, such as just rapids, camps, or hikes.
Rivers available to download
For the most up to date list of rivers available to download, visit our download page here. As of today, we have the Grand Canyon, Middle Fork of the Salmon, Upper Klamath, Wild and Scenic Rogue and Kern River available in the FarOut app. With more being added each month.