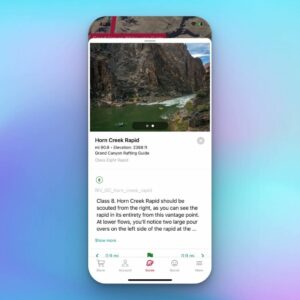 FarOut, the app that powers our rafting guides, has recently launched an affiliate program, allowing retailers, rental companies, tour operators and news outlets to start selling our whitewater rafting guides.
Qualified applicants can request access by clicking here to join.
Program highlights
No inventory to keep or manage
7% commission
A long sales attribution window of 30-days
FarOut + GoRafting.com highlights
Use Case Examples
Day trip or overnight kayak or raft rental company: Add the guidebook link to your checkout flow as an addon and to the booking confirmation emails. At your rental location, have a QR code to download the guides posted near the check-in location. Estimated conversion rate: 10 – 30%
Multi-day kayak or raft rental company: Our guides are very popular on longer river trips and for good reason: Our data is thorough and the FarOut app provides excellent location and community information. Adding the guidebook link as a key resource to your rental packet and as a checkout option are good examples of areas that will see high conversion rates. Estimated conversion rate: 15 – 30%
Tour operator: Our customer base includes a significant proportion of commercial guests who prefer rafting trips with oar boats or motor rigs. Adding a link to our guide in the trip pack list or writing a blog post is a non-salesy and effortless method to add value to your guest experience. Estimated conversion rate: 5 – 15%
News and blogs: When it comes to news and blogs, the potential is limitless. However, an easy way to provide value to your readers is by writing a product review or including links to our guides in articles about rivers or packlists. Estimated conversion rate: 3 – 10%
Ready to jump in? Join the affiliate program today
Click here to join the affiliate program. Once your application is received, feel free to send us a message and we will fast-track your application.